PaperCut MF allows organisations to track, control and optionally charge for the printing and copying performed by users. The implementation of a solution reduces paper and toner waste, cuts costs, reduces the impact of your organisations paper output on the environment and makes both users and departments more accountable. PaperCut MF provides access to detailed reports that illustrate the environmental impact of your organisations paper output and allow you to make the correct policy and purchasing decisions. PaperCut MF provides genuine cross-platform support and can operate in most networking environments. These include those that use Active Directory, Novell eDirectory, RM or LDAP for authentication with options to utilise Windows, Novell Open Enterprise (OES), Mac and Linux print servers with full pop-up messaging support on Windows, Mac, Linux and Unix clients.
To capture off the glass walk-up copying, PaperCut MF supports:
Embedded applications that run directly on a multifunctional device, enabling single sign-on using existing domain infrastructure (on selected devices).

Direct TCP/IP network connection with selected ITS hardware terminals, enabling user authentication and access via common card formats including: magnetic stripe ("swipe") cards, proximity cards, barcode cards and smart cards.
Feature Highlights
Track and control walk-up / off-the-glass photocopying using hardware or software solutions.

100% web-based administration allowing admin control from anywhere on the network.

Cross-platform support for both servers and clients. Available for Windows, Mac and Linux.

Vendor neutral - no hardware vendor or operating system lock-in.

Differential copy/print charging allowing costs to be defined per copier or printer.

Varied prices for colour, duplex and large format printing.
Print release and secure printing in open access environments.

Advanced reporting in PDF, HTML and Excel or export routines.

Charge to shared accounts - great for allocating costs to departments, faculties or cost centres.

Import users and groups from Active Directory or an LDAP server like Open Directory or Novell eDirectory.

Web-based reports including environmental impact.
How can we track copying?
PaperCut MF provides support for add-on hardware terminals that allow the control of standalone copiers, modern MFDs and other devices such as microfilm/microfiche printers. Alternatively embedded software can be installed on modern MFDs.
How can we take payment from our users?
PaperCut provides a system of Top Up / Prepaid cards and facilitate over the counter payment. PaperCut MF expands this by providing support for value loaders that automate cash payments and web-payment.
Why PaperCut?
Very simple to install, use and support

Feature rich and regularly updated modern software

A complete solution developed by one single development team

No expensive add-on modules developed by multiple 3rd parties
Embedded software for the leading brands of multifunctional devices

Simple pricing

Multi-platform support

Hundreds of UK reference sites
Screen Examples
PaperCut MF displays an overview of all system activity and the current status of all your devices and users which automatically synchronizes with your user directory utilizing simple web based administration, accessible from anywhere on your network.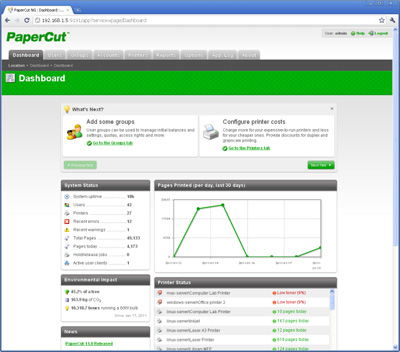 PaperCut MF allows you to control MFD/Copier access with embedded software enabling you to implement secure print release and find-me printing using on-screen embedded software. Users experiance the same "workflow" they do for printing. e.g. some users may be have an option to select a shared account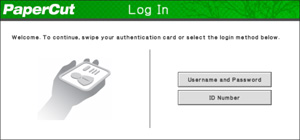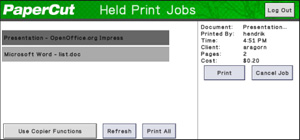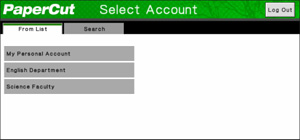 Define and track printing costs using simple or complex charging models and implement enforced print quotas or simply silently manage the cost of printing