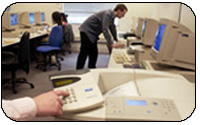 As a main agent for Infineer and Pcounter products in the UK education sector, we are able to deliver both hardware and software aspects of printer control. We offer a self-service money loader station as well as print release stations and card readers. Our solution is suitable for laser & inkjet printers of all types as well as photocopiers and multi-function machines. The card readers work with all popular types of card, including magnetic stripe, smart chip, barcode and proximity.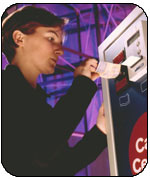 Pcounter is a network based software package (runs on any Microsoft or Novell server) providing print monitoring, print accounting, print quota management and control of network printing, eliminating waste and abuse. Pcounter monitors, reports and is able to control Who prints What, Where, When and How much. This results in dramatic cost savings and therefore Pcounter pays for itself in a short time.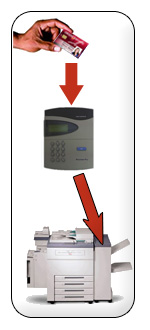 The Infineer 6055 has four price lines that charge for different paper sizes. The terminal accesses Pcounter online accounts to provide a payment source for any copies taken. The user inputs their identification, username, password and client code/project number (optional), via the SMS style keypad and the account balance is transmitted via a TCP/IP network to the terminal.


On receipt of the account balance, the copy device is enabled and the user can copy as normal. On completion, the Pcounter account is updated to reflect the cost of all copies made.The Infineer 6055 is a copy release terminal designed for connection to any make or model of network-enabled copier/multi-function device, providing the ultimate in flexibility and control for those organisations wishing to manage, control, monitor or charge-back against copies made.

Pcounter is a flexible and highly scalable network server-based print management and accounting solution that provides a wide range of cost control and cost recovery capabilities. Waste and misuse is eliminated, resulting in dramatic cost savings across any type of organisation.
Pcounter eliminates waste, provides quota management with cost recovery options - ideal for charging and non - charging environments. Pcounter provides the means to account for staff and department usage for total budgetary control.
Operation is achieved by an Infineer TCP/IP service installed on a server that facilitates all communications between the copy release terminal and the Pcounter software.

• SMS entry for alphanumeric characters
• 10 BaseT network interface
• Security mode to hide user passwords
How does Pcounter work?

Pcounter monitors and reports on all network print & copy activity, providing information enabling a print policy to be established. This can include restrictions, quota management and the ability to charge for printing (either for all printing or just where a given quota has been exceeded perhaps). Complementary solutions include secure print release with pull-printing, card reader integration, value loaders, e-Payment systems and copier control via network terminals or embedded software.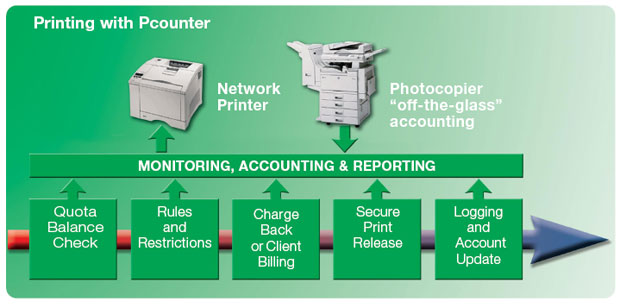 The first stage of managing any problem is to monitor and measure. In the context of printing and copying this means establishing who (which users) are printing what (what types of documents), where (which printers/copiers and locations), when (date and time) and how much (volume and costs).
This information enables a print policy to be set and enforced. This is ideal to accurately account for all expenditure on print and copy activity and save on areas of waste and misuse. Printer utilisation can be analysed to ensure printer ratios are appropriate to their use and that devices are being used within their expected capacity.

Pcounter monitors and records an audit trail of all print activity enabling accurate assessment of print volumes and analysis of printer usage.

The following detail is available: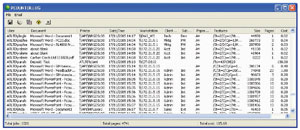 • Document name
• Originating workstation
• Destination printer/copier
• Date and time
• Page count
• Cost
• Paper size
• Features used (e.g. colour, duplex)
• Cost centre, client code / sub-code User name
Organisations often wish to operate a charging system for printing – however, it is not necessary to charge for printing to save money. Many organisations can still save vast sums on print costs by implementing a print policy based on sensible restrictions - these can include one or more of the following measures which should reduce print volumes by 25% to 50%: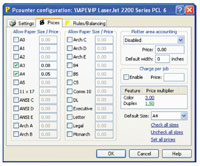 • stopping duplicate print jobs
• stopping printing directly off the internet / badly formatted or incorrect paper sizes
• redirecting print output to appropriate high
volume devices
• forcing confirmation of what users request is really what they want (page count and cost)
• enforcing cost awareness by using quotas/limits based on value
• enforcing page count or copy count limits per printer
Printer Management:
• Intelligent load balancing across Windows-based network printers
• Re-direction option for printers which are "down"

Costing and Charging:
• Multipliers for colour and duplex usage
• Plotter usage is priced per square foot or square metre
• Costs / charges can be set per device, per paper size
Features Summary:

Monitoring: Pcounter tracks & records all print activity per printer and per user
Reporting: Who printed What, Where, When and How Much?
Restrictions: Stop, pause, delay or re-schedule print jobs based on criteria such as copy/page count, job size/type, paper size, document type.
Option to detect and automatically delete duplicate print jobs.
| | | |
| --- | --- | --- |
| | | |
| | | |
A terminal is placed next to a specific network printer and an association is created between the two in the software.
The user can then print as normal but the print job is not called and printed at the associated printer until the user logs in at the terminal.
The terminal can also facilitate cost recovery or cost management by recording each job against a Client and Job code instead of accessing an on-line Pcounter account.
Re-direction:
Load-level printing for device optimisation and lowest cost output
Quota Management:
Automated allocation of print quota on a scheduled basis to reduce administration - ideal for non-charging environments.

Set costs per device, per paper size - with cost multipliers for colour and/or duplex usage

Print job confirmation for users - show cost and page count before print is released

Secure printing, controlled release + print from anywhere to anywhere (follow-me) to collect output from any printer - Pcounter Station.Charge-back & Client-billing from any network PC including Windows, MAC and Unix clients

Pcounter Web Client: enables administration, client billing and balance queries via web interface

Pcounter Web Payment - on-line credit/debit card payment for print credits

Automated cash collection via wall-mounted money loaders

Intelligent print load balancing across similar network print devices

Central administration of users and printers

Integration with photocopier control systems
Flexibility in the system design means that the product can be cost effectively deployed in small applications, with just a few terminals and users, as well as meeting the large-scale needs of an entire organisation across multiple sites with thousands of terminals and tens of thousands of users.

All systems can be self installed or installed by our team of engineers. Software configuration is usually quite simple but we offer a consultancy service if required. A 12 month warranty is included with all systems.